---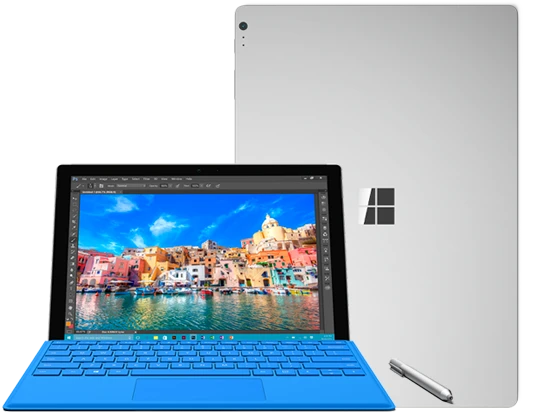 Microsoft Surface Pro
Tech Labz provides Microsoft Surface Pro repair services for all makes and models. Whether it is a cracked or broken screen repair, water damage, charging port, battery replacement, or software issue. But we are not limiting our servers you can request custom Microsoft Surface Pro repair services 24/7.
---
Professional Microsoft Surface Pro Repair Services in the UK
Tech Labz is your one-window Microsoft Surface Pro repair services provider in Bolton, United Kingdom. We understand that your Surface Pro is an essential tool for your workplace, education, and personal use. This is why we at Tech Labz offer fast and reliable Microsoft Surface Pro repair services of all types of models - to get you back to work as soon as possible. Our team of highly skilled technicians has years of extensive experience in repairing Microsoft Surface devices, ensuring your device is in safe hands.
So you're trying to decide - which Microsoft Surface Pro repair shop to choose in Bolton, UK. Many of the Surface Pro repair shops around claim to be the best. But - do they have a team of certified Microsoft repair team? Which have a deep knowledge of the generation, size, models, makes tools, and software.
If not - don't worry Tech Labz is the best choice for surface pro repair services - our team is certified and specialized while using updated technology, tools, & software. To repair your Microsoft Surface Pro broken - cracked screen, battery, upgrade, downgrade, slow, blue screen, and many more.
Get Your Microsoft Surface Pro Repair Now
Faced with any glitch or hardware dysfunction of your Microsoft Surface Pro, Tech Labz is just around the corner to reach out. We deal with all kinds of Surface Pro models and the latest Surface Pro generation PC repair and ensure that every customer gets satisfactory services.
Surface Pro Battery Replacement: Tech Labz screen repair services for Microsoft Surface Pro devices, including cracks, scratches, and any other damage to the display.
Surface Pro Screen Repair: You cannot work with a broken screen. Our team can quickly repair your Microsoft Pro Surface screen instantly.
Surface Pro Power Supply Repair: If your Surface Pro is not turning on, we can diagnose and repair any issues with the power supply repair at an affordable price in the UK.
Water-Damaged Surface Pro Repair: Accidents happen, and if your Surface Pro has even been exposed to water, we can help. Our technicians have the expertise to repair water damage and restore your device to its full functionality.
Your Trusted Surface Pro Repair Center of All time
Get reliable Microsoft Surface Repair services around the UK. Tech Labz provides its Microsoft repairing services in Bolton, Manchester, Darwen, Blackburn, Chorley, and Preston. Our team of expert technicians will fix both your software and hardware issues with Microsoft Surface and Surface Pro. We're using the latest tools, parts, and technology to repair your Microsoft Laptop.
Tech Labz Microsoft Surface Repair Services Include
At Tech Labz, our seasoned team can repair your Microsoft Surface Pro both hardware and software issues - at cut rates and guarantee 100% customer satisfaction. Consult with our Surface Pro experts online to get the optimal solution. Keep running your system smoothly. Choose which Surface Pro repair services you need.
Touch Screen Repair or Replace
Upgrade RAM, SSD, and Processor
Replace and Repair Ports
Keyboard Replacement
Battery Replacement
Fix Software Issues
Data Recovery
Diagnostics
Surface Pro Repair Services for - All Models & Makes
Avail of Microsoft Surface Pro repair services for below below-mentioned makes and models from the leading Surface Pro repair shop at your doorstep in Bolton, UK.
Surface Pro 9, Surface Pro 9 with 5G
Surface Laptop 5 13.5, Surface Laptop 5 15
Surface Studio 2+
Surface Laptop Go 2
Surface Pro 8
Surface Go 3
Surface Laptop Studio
Surface Laptop 4 13.5
Surface Laptop 4 15
Surface Pro 7
Surface Pro X
Surface Pro Repair Services for - All Models & Makes
Microsoft Surface for Business Computers - You can customize or repair your Surface Pro with us while maintaining 100% customer satisfaction at the best prices. Feel free to contact us 24/7 and avail best Microsoft Surface Pro Repairing services around the UK.
If you are looking for a Microsoft Surface Pro repair shop in Bolton, UK. Stop searching now - as you are at the right Surface Pro repair shop. We offer all types of repair services for Microsoft Surface Pro. which include - screen repair and replacement, battery repair and replacement, port repair, charging port, software, and any type of hardware issues. why we are the best option in the UK? As we have the best repair team for the surface pro you can hire him at cut rates around the market. Feel free to contact with online support team to share your issue details and get a free quotation.