---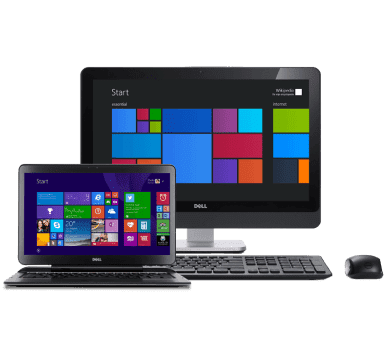 Laptop Repair Services
Welcome to Tech Labz laptop repair services in Bolton, UK. While you are looking for computer or laptop repair services around - Choose the best local laptop repair shop Tech Labz for all types of laptop repair services - whether it is cracked, broken screen, water damage, charging port, or any other issue. You can get satisfactory repair services for all types of make and brand laptops at affordable prices. let's have a look.
---
Computer & Laptop Repair Services in Bolton
Thanks for landing on TechLabs - a leading computer and laptop repairing services provider in Bolton, UK. We take pride in our efforts to make your life easy by fully repairing your dysfunctional computer and laptop at an affordable cost.
PCs and Laptop repair specialist from 2005 - We can repair your laptop, or computer of any model, brand, and make at your convenience. Our team of laptop repair experts can solve any hardware and software issues. We have certified and experienced technicians for every brand.
TechLabz's highly skilled professionals have an unwavering commitment to their service provision and have resolved quite a number of complex issues when it comes to laptop repair and bringing your computer back to work. We are blessed to have been in the computer and laptop repairing services industry since 2005, providing best-in-class PC refurbishing of all models of PCs and laptops.
Tech Labz is based in the UK and provides repair and sales services in every city. You can find our main repair shop for computer and laptop repair in Bolton.
Laptop Model and brand we repaired -
Dell,
Acer,
Asus,
Compaq,
Fujitsu,
HP,
IBM,
MSI,
Sony, and
Laptop Repair Issues we deal with and fix in same-day laptop repair services - Both hardware and software laptop repair services include; No Wi-Fi, Running Slow, Virus Removal, Not Charging, Not Powering up, Hard Drive Replacement, Cracked Screen, Damaged Casing, Broken Hinge, Data Retrieval, Graphic Issue, Lines on Screen, Liquid Spillage, Switching Off, Battery Replacement, Faulty Keyboard, Faulty Trackpad, Memory Upgrade, Not Logging On, Overheating, Not Enough Space, Not Booting, Not Starting, Cleaning, and more. Hire the best laptop repair services experts at the best price, with 100% customer satisfaction.
Sustainable Laptop and PC Repairing Solution
When it comes to repairing, a sustainable solution is the key to success. We, at TechLabz, ensure that the service we provide to our customers must come with due sustainability. If your PC or laptop bothers you again after repair, we welcome you to come by again and have our skilled team rethink what went wrong.
Avail of laptop repair services in Bolton, the UK at your doorstep. Tech Labz is one of the leading Laptop repair shops in the UK and is known for its best laptop repair services. We're not only providing computer repairing services in Bolton, but Manchester, Darwen, Blackburn, Chorley, and Preston.
Laptop Models and Brands We Successfully Repaired
Whether it's software or hardware issues our well-trained and certified laptop repair technicians team will solve it. Our team is using the latest tools, Updated technology, and software to analyze and fix the issues.
Most of our customers ask; how much time it will take to repair a laptop. So, it depends on the issue, but it may take from 1:00 hr. to 8:00 hrs.
Laptop Models and brands we repaired include Dell, Acer, Asus, Compaq, Fujitsu, HP, Apple, Lenovo, IBM, MSI, Samsung, Sony, and Toshiba.
Some of the key issues we come to resolve include No Wi-Fi, overheating up, virus removal, Windows installation, and other software troubleshooting. In addition, we repair PC's not booting or powering up, not charging slow loading speed issues, and hard drive replacement.
Our team also catered to other hardware-related issues, for example, laptop cracked screen repair, damaged casing, keyboard replacement, broken hinge, data retrieval, and graphic-related issues. Moreover, we can promptly repair lines on your laptop screen, liquid spillage, switching off, battery replacement, and touchpad issues. A few other most common issues we handle are typically not logging on, not enough space prompts, the system not starting, cleaning, and more. Hire the best laptop repair services experts at the best price, with 100% customer satisfaction.
Our Comprehensive PC and Laptop Services Include
TechLabz's comprehensive Laptop repairing services entail identifying issues and devising a solution for the issues listed below.
Laptop screen repairs – Original and 1st copy of the Laptop Screen
All types of Laptop Repair – HP, Dell, Surface Pro, Mac, Lenovo, Toshiba, and many others
Laptop Keyboard Repairs/replacement – 100% Guarantee
The computer is running Slow – Sometimes it works on your system but the system cannot process quickly
Upgrade your RAM and install the SSD
CPU Upgradation
Build Custom
Virus Removal
System Tune-up
Motherboard swap
Operating System reinstall
Diagnostics
Data Recovery
Diagnostics – Laptop diagnostics include multiple software tests and hardware inspections
Our laptop repair team will manage to fix your laptop issues as mentioned above. Both hardware and software.
When we will replace your laptop screen?
Laptop screen repairs- Tech Labz will fix the screen if any of the following issues are occurring:
The laptop Screen is cracked or shattered
The screen has horizontal or vertical lines running through it
Various pixels have stopped working
Sections of the screen are darkening
The screen is dim or black
The screen is a bright white
In all of these cases, you will have to change your laptop screen and this is the only solution.
If you require laptop repair services in Bolton, UK feel free to contact Tech Labz.